­­Wedding season is just around the corner, and if you're the mother of the bride or groom then you should start preparing for your own walk down the aisle. All eyes are undoubtedly on the bride, but as MOB/MOG you will also find yourself sharing some of the spotlight with the happy couple.
To get yourself into tip top (cosmetic) shape for the wedding, Surface Clinical's Liz Newman has put together a timeline of what treatments and procedures should be considered and when.
6 Months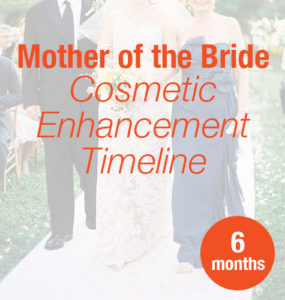 The wedding countdown is finally under 200 days. It's time to schedule an appointment and formulate a treatment plan for your skin's needs.
The first component we look at when developing a skincare plan is what products you're currently using. It's likely we'll need to tailor your product assortment based on the areas you especially want to see changes in, and topical products and treatments can take some time before results are visible.
Typically, most women need to be on a 'corrective problem' regimen, which can take up to 8 weeks to start seeing improvements. The ZO line is our most recommended, and most aggressive.
If one of your concerns is making sure your dress fits like a glove, CoolSculpting treatments are another option to consider. CoolSculpting is a great non-surgical procedure for people with problem areas where stubborn fat has accumulated that diet and exercise won't get rid of.
To achieve optimal, visible results, most patients need at least two cycles of CoolSculpting. Ideally, treatments should be started 5-6 months in advance of the wedding. For more information on CoolScuplting, and to determine if you're a candidate, take a look at this blog.
3-4 Months
About 3-4 months prior to the wedding, part of your cosmetic enhancement plan will probably include 2-3 laser treatments. Halo and IPL are highly effective options that we regularly recommend.
Laser treatments are ideal for women looking to reduce the appearance of fine lines, wrinkles and pore size, even out skin discoloration and/or sun spots, and improve overall tone, texture and glow.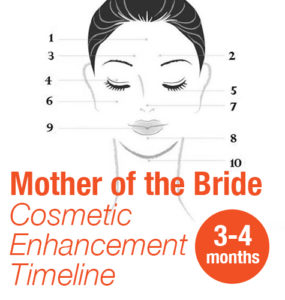 The Halo laser treatment is a Fraxel that promotes dermal rejuvenation and stimulation, which results in exfoliation and cell regeneration. In the week following your procedure you should expect to swell and peel.
You may begin to see initial results in about 5 days, but your skin will continue to improve in the months to come. Most patients see the greatest pigmentary improvement in 2-3 weeks – hence our recommendation for starting treatments 3-4 months prior to the wedding so you can achieve the best possible results.
Another laser option is IPL. IPL treatments are especially good for those with fairer complexions that want to even out their skin tone. IPL is also great if discoloration extends down to the chest because the treatment can be applied there as well.
If Halo or IPL aren't in your world then a chemical peel is an effective, less expensive alternative for achieving improved overall complexion improvement.
Fillers are ideal for plumping up thin lips, enhancing shallow contours, softening crevices, filling out wrinkles and even improving the appearance of facial scars. A little in the 'smile lines' and marionette lines are the most common injection sites.
If fillers are needed, they can be injected 3-5 months in advance. The Surface approach is to schedule your initial injections plenty of time before the wedding so there is enough time to refine and touch up the overall look.
Lastly, Botox is a no brainer and can make such a difference in softening your look. If you are already using Botox, keep it up, but as the wedding gets closer, we recommend a touch up.
If you've never used Botox before, or it's been awhile, we highly recommend trying it out well in advance (as with filler), to make sure you like the results. Botox is generally injected every 3 months and is our go-to treatment for temporarily eliminating facial lines and wrinkles.
1 Month
At this point you should be pretty much ready to make your grand entrance!
Botox and filler touch ups might be needed for some last minute fine tweaking and to make sure you look even and perfect. Doing these kinds of touch ups at 2 weeks is too risky because bruising can occur, which is why we recommend coming in about a month before.
Additionally, we may refine your product regimen to ensure you're not peeling or slightly red in the face.
The photos and memories from a wedding will last a lifetime, and our goal at Surface is to make you feel beautiful and look natural. There's nothing more stunning than a confident, happy woman!
Posted in: Blog