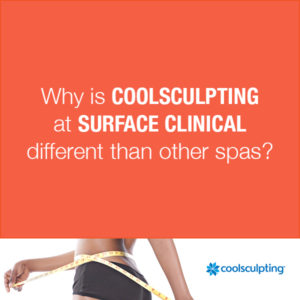 A question we receive frequently is, "why is CoolSculpting at Surface Clinical different than other spas"? Well, our answer is two-fold. For one, Surface has the latest CoolSculpting equipment and applicators, and two, our overall medical approach ensures that the treatment you receive is safe, effective and in the best interest of your body and health.
In order to provide our patients with the best services and treatment, it's important that we always have the latest CoolSculpt applicators and equipment in house.
Patients who choose to have their CoolSculpting at Surface Clinical are able to use the new CoolSculpt CoolAdvantage Applicator. With this new applicator, treatment times are cut in half (at just 35 minutes), its enhanced design makes treatments more comfortable than with the traditional applicator, and it's able to treat a larger area at once.
Why CoolSculpt at Surface?
But, the real reason as to why CoolSculpt at Surface Clinical is different than your average spa is our medically-derived focus and commitment to our patients. Surface is constantly evaluating new technologies and treatments, and we only offer the best and safest.
What's more, the practices and procedures at Surface are overseen by Board Certified Plastic Surgeon Dr. Fritz E. Barton, Jr., M.D. Dr. Barton has more than 40 years of plastic surgery experience and has personally trained each technician at Surface Clinical.
Many spas are driven by a "retail" philosophy*, as in 'if you pay for it, they will provide it', regardless of if it's truly in the best interest of your health and/or physical appearance.
By choosing Surface Clinical as your CoolSculpt provider,  you can rest assured that you're receiving the highest quality, most effective treatment that's delivered by a trained technician. Our responsibility is to do what's in the best interest of our patient, not our bottom line.
*Disclaimer: We understand that not all spas operate by this kind of philosophy, but in our experience this is the guiding principle of the majority of non-medically backed or monitored spas.
Posted in: Blog, CoolSculpt